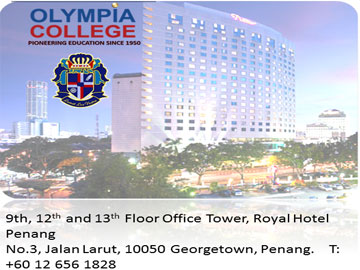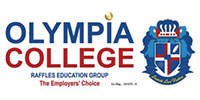 Address:9th floor, Royal Hotel Office Tower, 3, Jalan Larut, 10050 Georgetown Penang.
Mobile:+6012-656 1828
WhatsApp:+012-656 1828
OLYMPIA COLLEGE a member of Raffles Education Group. Higher Education institutes of learning should be made accessible to everyone. That was the basis which formed Olympia College back in 1995. A member of the established Raffles Education Group, we have expanded from the main campus in Kuala Lumpur to include campuses in Penang, Petaling Jaya, Ipoh, Kuantan and Johor Bahru.
Students are given the opportunity to learn in and out of the lecture halls. With qualified lecturers to guide them, many have found career satisfaction as professionals in Business Management, Hospitality, Finance, Multimedia, Public Relations & Advertising, and Human Resource Management.
In keeping with the principle that everyone should be able to enjoy education, all six Olympia College campuses offer certificates, pre- university, undergraduate and postgraduate programmes. These programmes lead to external awards from United Kingdom, United States, Switzerland, Canada and Australian institutions that Olympia is affiliated with, namely University of West of Scotland – UK, IPE Management School of Paris – France, Edexel – UK, BHMS – Switzerland, ACCA – UK, AMA – USA, University of Information Technology and Management – Poland and selected partner universities for students to further their higher education locally in Malaysia and overseas.
Business, Finance & Accounting (BFA)
Master of Business Administration (IPE)
Bachelors in International Business, (IPE, Paris)
Executive Diploma in Business Management
Diploma in Business Management
Certificate in Commerce (CIC)
Foundation in Business
Hospitality, Tourism and Culinary Arts (HTCA)
Diploma in Hotel Management
Certificate in Hotel Operations (CHO)
Skill Programme
Information Technology
Diploma in Information Technology (DIT)
Languange & Communication
IELTS and English Placement Program