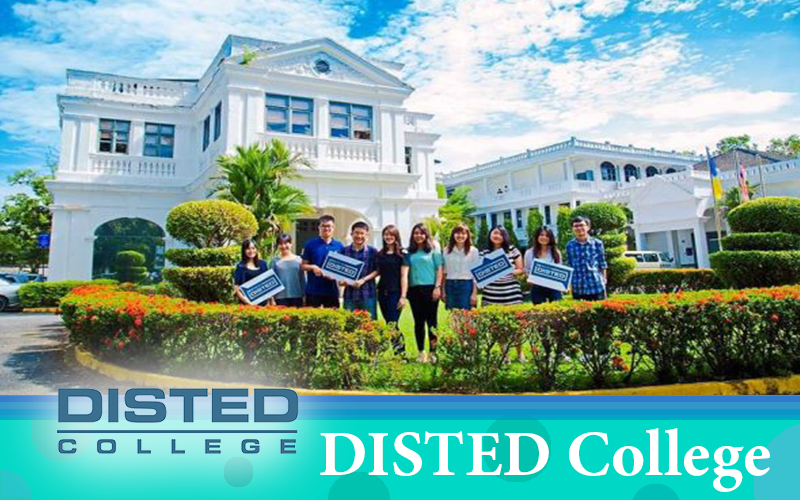 DISTED, a premier non-profit college in Penang owned by the Wawasan Education Foundation, is committed to providing education and training to young students to serve the needs of industry and community.It thrives on the confidence of the community and the strengths of its programmes, staff and student care. 
The college currently operates from two exquisite heritage properties – the Yeap Chor Ee Heritage Campus that sits elegantly amongst the tree-lined Macalister Road and the DISTED School of Hospitality Management located at the Wawasan City Campus on China Street Ghaut in the heritage enclave of UNESCO World Heritage City of George Town. 
DISTED believes in the capability and commitment of Malaysians to provide a brand of education that is excellent, relevant and complete for all in the country.It offers a wide range of high quality courses from certificate to bachelor degree level in pre-university studies, business, hospitality, psychology, IT and engineering.The college offers an environment that gives young school leavers safe and great opportunities to live and learn a life of adventure, creativity, independence and leadership as well as to thrive and achieve significance in knowledge for the service of mankind.Students are able to enjoy a wide variety of social, cultural, entertainment and sporting activities that will contribute to a great on-campus and well-rounded learning experience. 
DISTED takes pride in its financial award and bursary schemes, which are partly supported by the Wawasan Education Foundation and Yeap Chor Ee Charitable Trust, and the success of the schemes in recognizing and rewarding not only academically talented students but also deserving students who are in financial need. 
DISTED empowers students for a holistic and meaningful education experience and a better start towards the career of their choice through the following collaborative enriching initiatives: 
Industry Advisory Panels for the college to keep closer touch with industry players so as to make its programmes industry-relevant and mould students to be more job-ready. 

INSPiRE Programme to maximize first person exposure of students to industry and business leaders who share with them personal and professional experience of industry landscapes. 

CONNECT Programme to promote a caring community culture and sensitize students to issues affecting society and engage the community on issues faced by young people. 

Let's Go Green Campaign to mould environmentally friendly and responsible citizens and develop leadership in environmental conservation leading to sustainable lifestyles. 




eLearn is the college's e-learning thrust that promotes complementary online delivery of lessons and sharing of experiences based on technology-enabled, student-centred and lecturer-facilitated learning. It utilizes Moodle as its e-learning platform. 
In addition to its existing diplomas, DISTED also delivers the BTEC – Business & Technology Education Council Level 5 Higher National Diploma (HND). It is the only institution of higher learning in north Malaysia fully endorsed by Edexcel to exclusively offer the BTEC HND qualification in Business Studies, Accounting, Hospitality Business Management, Engineering, Computer Science and Creative Multimedia.
Pre-University Programmes
Cambridge A-Level KPM/JPT(R010/3/0260) 08/19 MQA(A10062)

SACE International KPT/JPT(R/010/3/0253) 05/19 MQA(A10061)
Diploma in Business Studies KPM/JPT(R/340/4/0415) 07/19 MQA(A10063)

Diploma in Accounting KPT/JPT(N/344/4/0126) 01/18 MQA(FA2009)

Diploma in Hospitality Business Management KPT/JPT(R/345/4/0896) 03/21 MQA(A6751)

Diploma in Computer Science KPM/JPT(R/481/4/0429) 08/19 MQA(A10211)

Diploma in Business IT KPM/JPT(R/481/4/0493) 12/19 MQA(A10212)

Diploma in Creative Multimedia Production KPT/JPT(N/213/4/0053) 02/17 MQA(FA1323)

Diploma in Food and Beverage Management KPT/JPT(N/811/4/0259) 02/20 MQA(PA5189)
Franchise Degree Programmes
Staffordshire University (UK)
BA (Hons) Events Management KPT/JPT(N/812/6/0042) 02/18 MQA(PA2167)

BA (Hons) Accounting & Finance KPT/JPT(R/343/6/0065) 12/17 MQA(A8442)

BA (Hons) Business Management KPT/JPT(R/345/6/0268) 12/17 MQA(A8439)

BA (Hons) International Business Management KPT/JPT(R/345/6/0269) 12/17 MQA(A8441)

BA (Hons) Marketing Management KPT/JPT(R/342/6/0049) 12/17 MQA(A8440)
Help University Msia
B.Psychology (Hons) KPM/JPT(R/311/6/0055) 07/18 MQA(A9145)
ACCA KPT/JPT(R/344/6/0130) 12/16 MQA(A7132)
Certificate in Intensive English KPM/JPT(R2/224/3/0067) 03/21 A6752

English Enrichment Programme KPT(JPS)600-03/1062/GABUNG(104)

IELTS Preparation JPT/BPP(K)1000-600/P717Jld.2 (49)
START LOOKING FOR A COLLEGE THAT SUITS YOU
Still confused about issues such as learning?
Study Penang can help you find a suitable university or college easily, contact us and find your university.
340 Macalister Road, 10350 Penang, Malaysia
Tel: +604-229 6579
Fax: +604-226 6403
DISTED School of Hospitality
7 China Street Ghaut, 10300 Penang, Malaysia  
Tel: +604-262 5579   Fax: +604-262 4579 
E-mail: info@disted.edu.my   Website: www.disted.edu.my
DISTED Pulau Pinang Sdn Bhd (435576 U)  MOE registration no. P4P1019