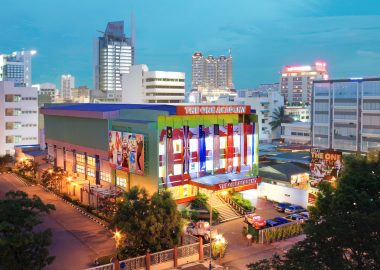 Address: No.33 Jalan Anson, 10400 Georgetown, Penang
Contact: +6017 922 1033 /
+604 210 3000
One of the world's best art & design institution!
The One Academy is an MQA-accredited college with MSC-status, carrying formal affiliations with reputable design universities and colleges worldwide.
The One Academy in Penang, our commitment in providing high quality education of communication design is to coach students on industry-governed syllabus, up-to-the-mark modern facilities and conducive learning environment. We provide uncompromised education mirroring our Sunway campus.
As Malaysia leading creative art school, The One Academy Penang exemplified through the tagline 'No Empty Promises, Just World Class Results', students experience heightened evolution in concept development and creativity with its 'Masters Train Masters' teaching philosophy; coached by top-notch practicing industry gurus, accompanied by state of the art facilities, 'the whole island is your moving classroom' learning environment as well as industry-driven syllabus that will gear them up with cutting-edge industry-related creative knowledge and practice. As a result, we have our graduates running successful careers in creative capitals of the world.
Diploma in Digital Animation
Diploma in Illustration
Diploma in Advertising & Graphic Design
Diploma in Digital Media Design
Diploma in Interior Design