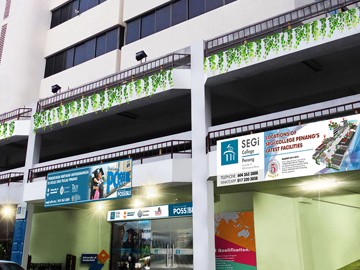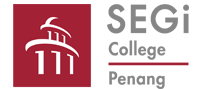 Address:Wisma Greenhall, 43, Green Hall, 10200 Penang.
Telephone:+604-263 3888
WhatsApp:+6013-629 4880
Fax:+604-262 2193
SEGi College Penang has come a long way in providing quality education with a personal touch to both Malaysian and international students for over 30 years. The College prides itself on the attention given to individual needs of the students, whatever their cultural background.
SEGi College Penang is situated at Greenhall Road and offers a perfect setting for those intending to pursue their tertiary qualification. The campus has a beautiful lobby, resource center, student area, well-equipped IT labs, cafeteria, and auditorium and purpose-built classrooms and lounge areas offering locals and international students the facilities for a great learning experience.
We are the "college by the sea". This unique coastal location of the campus provides you with an ideal learning lifestyle with a breezy atmosphere, fresh air and affordable living costs. Amenities are convenient and readily available with eateries, banks, shopping malls and public transport located nearby to SEGi College Penang.
Furthermore, SEGi College Penang provides an exclusive learning experience to its students with its signature dedication from academicians and management staff, which is characteristic of Penang hospitality. Care is taken to ensure that you are given personal attention, in-depth coverage of the syllabus and a hands-on approach to learning.
The College offers students the opportunity to pursue a range of diploma courses, degree programs, professional courses and postgraduate (MBA course) approved by the Ministry of Higher Education, Malaysia. Our collaboration with partner universities in Australia, UK and the USA provide the pathway for our students to secure degrees from world recognized universities.
''From a Great Graduate to Employability''
''The Best in You, made POSSIBLE''
Health, Medical and Nursing (HMN)
Diploma in Medical Laboratory Technology
Bachelor of Science in Psychology
Science & Engineering
BA (Hons) Mechanical Engineering
BA (Hons) Electronic & Electrical Engineering
Diploma in Electronic & Electrical Engineering
Bachelor of Science in Business Adminstration
Foundation in Science
Information Technology (IT)
BA (Hons) Computing
BA (Hons) Business Computing
Diploma in Information Technology
Education
BA (Hons) Early Years Education, University of Greenwich, UK
Diploma in Early Childhood Education
Hospitality, Tourism and Culinary Arts (HTCA)
BA (Hons) International Toursim and Hospitality Management
Diploma in Tourism Management
Diploma in Hotel Management
Diploma in Restaurant Management
Diploma in Culinary Arts
Business, Finance & Accounting (BFA)
Master of Business Administration
BA (Hons) Accounting and Finance
BA (Hons) Business and Marketing Management
BA (Hons) Business and Management
Diploma in Business Administration
Diploma in Accountancy
Bachelor of Science in Business Administration, Troy University, USA (4+0)
Foundation in Commerce
Certificate in Business Studies