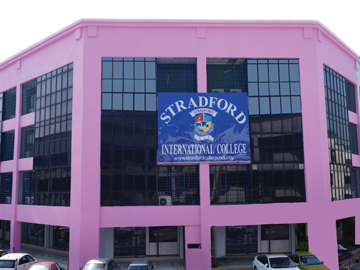 Address:2796, Jalan Chain Ferry,Taman Inderawasih, 13600 Prai, Penang, Malaysia.

Telephone:+604-390 4000
+604-397 2122
Fax:+604-390 3000
Stradford International College
Stradford International College ( also known as Stradford College ) was established in 1995 under its former name Silicon Institute of Technology. In the initial years, the college played the major role as a Corporate Training Provider conducting external professional qualifications like City & Guilds (C&G) of London and Engineering Council (UK) at Certificate, Diploma and Degree levels in the fields of Engineering and IT.
Stradford College currently offers Malaysian Qualification Agency (MQA) accredited Diploma courses in Engineering (Mechatronics and Robotics, Electrical & Electronics and Computer & Electronics Engineering), Diploma courses in Business Administration, Hotel Management, IT, Computer Networking, Canadian Pre-University Program, Foundation in Science, English Courses, Basic & Intermediate courses in Petroleum Engineering, JPK's (Malaysian Skills Department) Certificate/Diploma Skills Courses apart from a wide spectrum of Corporate Training programs on emerging technologies.
Stradford College is amongst Malaysia's Premier Private Colleges where a unique fusion of technology, innovation and creativity works effectively towards preparing graduates for significant roles in business and society globally. We aim to nurture and encourage innovation through our programs of study, with the intention of producing individuals who will learn, adapt and think differently in new and better ways.
Pre-University Studies
Canadian Pre-University Program
Foundation in Science
Science & Engineering
Diploma in Mechatronics & Robotics Engineering
Diploma in Electrical & Electronics Engineering
Diploma in Computer & Electronics Engineering
Basic & Intermediate Courses in Petroleum Engineering
Information Technology
Diploma in Information Technology
Business, Finance & Accounting (BFA)
Diploma in Business Administration
Hospitality, Tourism and Culinary Arts (HTCA)
Diploma in Hotel Management
Language & Communication
Skills Courses
Industrial Automation Engineering Support Service (Level 2)
Industrial Automation Engineering Supervision (Level 3)
Industrial Automation Engineering Administration (Level 4)
Food Preparation & Production (Level 2)
Food Preparation & Production (Level 3)
Food & Beverages Service Operation (Level 2)
Food & Beverages Service Operation (Level 3)
Single Phase Electrical Installation & Maintenance (Level 2)
Three Phase Electrical Installation & Maintenance (Level 3)
Electronic Equipment and Appliance Installation & Troubleshooting (Level 2)
Electronic Equipment Troubleshooting, Repair & Maintenance (Level 3)
Electronic Product Development (Level 4)
Office Administration (Level 2)
Office Administration Supervision (Level 3)
Information Systems Administration (Level 4)
Vocational Training Operation