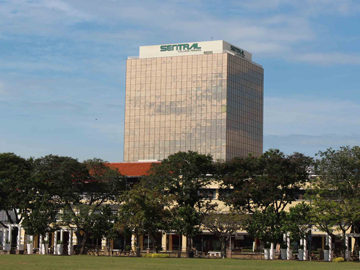 Address:Menara SENTRAL
3, Penang Street
10200 George Town, Penang.
Telephone:+604-262 1888
Fax:+604-263 6368
SENTRAL College Penang
Established in 2002 SENTRAL College Penang aspires to be a tertiary education platform for youth; to develop them into wholesome capable individuals who will support their family, serve the community and strive for the country. The College has held on to this purposeful goal as a strong pillar of support and catalyst of SENTRAL's growth.
PARTNERSHIP TOWARDS SUCCESS
We continuously seek partnerships with prestigious institutions of higher learning both locally and abroad to bring various offerings to students with different career preferences. All programmes are approved by the Ministry of Education, Malaysia (MOE), accredited by Malaysian Qualification Agency (MQA) and recognised by Jabatan Perkhidmatan Awam, Malaysia (JPA). The College works in collaboration with the University of Salford, Manchester U.K. to provide world-class foreign higher education to students.
FOCUSED VISION, DRIVING GROWTH
Founded as Sentral Technology College, we went through two significant changes – renamed SENTRAL College Penang and relocated to the gleaming 14-storey SENTRAL Tower. The relocation reflects our success in growing the College into an all-encompassing institution. We reaffirmed our founding goal and are committed to realize our Vision:
"To be an impactful and significant institution fostering program relevance, creative thinking and institutional excellence".
We aspire to achieve this vision steadily but surely – all within the context of mutual respect, active learning and caring, liberty and justice, adopting the best of education practices aligned with the National Education Philosophy.
Business, Finance & Accounting (BFA)
Diploma in Business Studies
BSc (Hons) Business & Management
Diploma in Accounting
BSc (Hons) Accounting & Finance
Certified Accounting Technician (CAT)
Association of Chartered Certified Accountants (ACCA)
Information Technology (IT)
Certificate in Business IT
Diploma in Computer System Technology
BSc (Hons) Digital Business
Hospitality, Tourism and Culinary Arts (HTCA)
Certificate in Tourism Operations
Tourist Guide Program – Level 3
Diploma in Tourism Management
Education
Diploma in Early Childhood Education